all the kickstarters that are catching my eye at the mo (and sometimes other things to back as well)
Subscriptions
Make it Then Tell Everybody (@MakeThenTell) by Dan Berry (@thingsbydan)
patreon here – a recent is his interview with Lizzi Kaye of Cast Iron Books (@LizzieHKaye) (@castironbooks)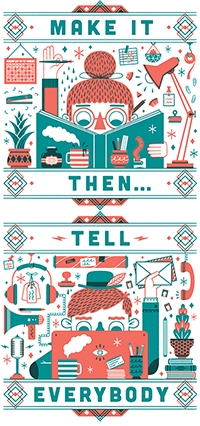 Sarah Horrocks (@mercurialblonde) – comics and critical writing
patreon here – one of the best of her generation as a critic and champion of interesting and expressionistic works and an amazing artist in her own right
New this week
Sentinel Comic issue 6 – Bad Kitty by Alan Holloway (@uk_comic) and Morgan Gleave (@MorganGleave)
(fully funded) finishes Monday, February 22 2021 5:00 PM GMT
Alan has proven to be a very adaptable and able writer and Morgan's art is just damn good fun!
Flintlock Book Five by Steve Tanner (@stevetanneruk) and others from Time Bomb Comics (@TimeBombComics)
(fully funded) finishes Mon, March 1 2021 10:00 PM GMT
there's something about how much this feels like a birtish anthology , especially the artwork, that's really intriguing and appealing
Bridging the Balkans: Portland Meets Serbia by Miriam Kercher
(still funding) finishes Tuesday, March 9 2021 4:43 PM GMT
the idea of a zine about the artists and creators of Serbia sounds cool and the art samples look nice
Moving Through by Anna Magdalena
(still funding) finishes Thursday, April 1 2021 12:57 PM BST
great design showcasing some very beautiful images
Bird Brained Zine Anthology edited by @karrtunes
(still funding) finishes Friday, April 9 2021 9:54 PM BST
always want more zine collections in the world and the samples look cool
I'm still loving these Kickstarters
Bunny Jane: To Escape or Not Escape From Hell from @foolish_company by Felipe Bergson
(fully funded) finishes Thursday, February 11 2021 2:45 AM GMT
Just because it's so intense
(fully funded) finishes
that's just some lovely bouncy character design
The Suttons – A collection of comic strips by Phil Elliott by @philselliott
(fully funded) finishes Sunday, February 21 2021 7:00 PM GMT
because Phil Elliott is a genuis and these strips are beautiful and gorgeuosly human
Pencils of Asia by Shaun McPhee
(fully funded) finishing Monday, February 22 2021 9:37 AM GMT
It's a high end zine about pencils!!
The Scent of May Rain by @MarkOStack
(fully funded) finishes Wednesday, February 24 2021 12:24 PM GMT
beautiful artwork and a fascinating sounding premise
Heavy Rotation by Shelly Bond (@sxbond)
(fully funded) finishes Wednesday, February 24 2021 2:16 PM GMT
because these Shelley Bond projects have been awesome and this features some greart artists including personal favourite Mark Stafford @marxtafford
(still funding) finishes Thursday, February 25 2021 1:00 PM GMT
there's something in the character design that is just very satisfying
Threadbare Memories by @AngelaBComics
(fully funded) finishes Thursday, February 25 2021 5:55 PM GMT
amazingly skilled artwork, physically believable but enormously inventive as well; this looks like a lot of fun
Dr Love Wane and the Experiments issue 2 – @DrLoveWaveComic by @GSGustin and @kayleerowena and @JoametteGil and @KelseyAlex_
(fully funded) finishes Friday, February 26 2021 4:00 AM GMT
there's a few story pages on the campaign and they look very intruiging, slightly odd, but not outright weird
Treading on Thorns by Aimee Sullivan (@stardustpinkart)
(still funding) finishes Monday, March 1 2021 12:28 PM GMT
I like the look of the bits of finished artwork and the very unambitious tone of the kickstarter, it just sounds like someone looking to be able to do something they love and needing helpto achieve that
The Thing That Stops The Badness by Steve Thompson (@Kloob) and Daniel Bristow-Bailey (@bristowbailey)
(fully funded) finishes Wednesday, March 3 2021 12:46 PM GMT
I've seen Daniel posting work from this on social media for what seems like a long time and it's always looked good
His recent art has stepped up a notch to be something very cool and exciting
Floodland by Jonathan McBurnie (@king_of_nails) from Argle Bargle Books
(still funding) finishes Wednesday, March 3 2021 5:01 PM GMT
There's something very odd and definitely personal about this andit's al to the good as far as I'm concerned, an interesting one for sure
all contents copyright its respective owners